Channel Manager
A hotel channel manager is a software that helps maintain your property's rates and availability across numerous distribution channels simultaneously. See how Little Hotelier's channel manager can enable you to manage bookings with ease and effortlessly update inventory for all sites, from one single point of entry.
Hotel channel management is the process of managing multiple distribution channels such as online travel agents (OTAs) or your own website, in order to sell your room inventory across various platforms around the world. It is one of the most effective ways to reach a global audience without risking over bookings. Channel management allows your hotel to partner with established OTAs like Hotels.com and Airbnb, as well as niche booking sites in local markets like Lastminute.com and Agoda. When you do it right, channel management can accelerate your bookings and help you generate additional revenue for your accommodation business.
Say goodbye to boring, admin tasks and hello to more time, Merlton will automatically update your rates and availability in real-time, across global booking sites.

Sit back and relax and check your booking anytime, anywhere all are at your fingertips.
Reach more travelers.Get more reservations.
Advantages of using a channel manager system
Increase online bookings and save time
Access to OTAs, Metasearch and Wholesalers
The more OTAs your channel manager connects you to, the more markets you can tap into. Choose the booking channels that work for your business, we give you access to more than any other hospitality channel manager.
A front-desk system with all the tools
Update your rooms, rates and availability in one place. With frictionless two-way connections, we'll make sure changes are made across all your distribution channels so that guests have accurate information no matter where they are booking from.
Time-saving
Save time with keeping the total of your online distribution at a single point of control.
Reporting and Analytic
Robust reporting and analytics capabilities, allowing hoteliers to track performance across channels and identify areas for improvement. This includes monitoring booking volumes, revenue, and channel performance, as well as providing insights on guest behaviour and preferences. This helps hoteliers make data-driven decisions that can lead to more revenue and better guest satisfaction.
Build and automate your channel mix.
Manage all your channels,rooms, and rates in one place.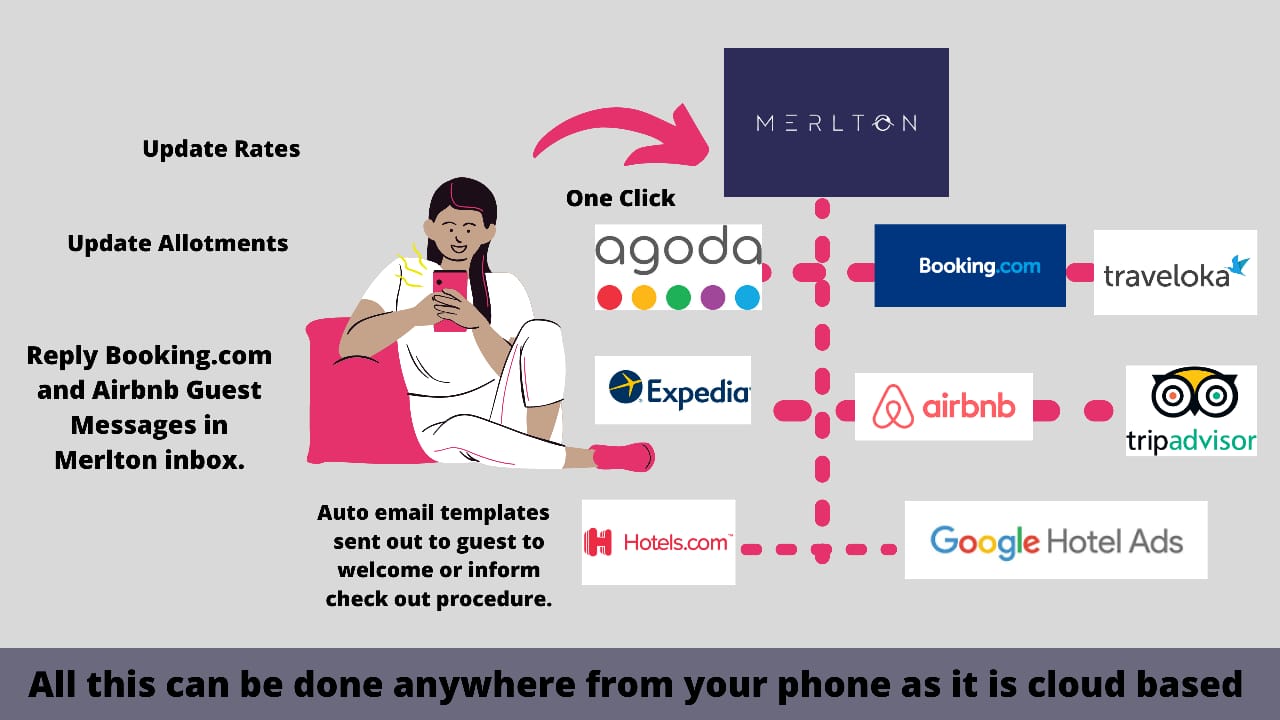 OTAs
Abritel XML & iCal
Airbnb XML & iCal
Agoda
Agoda Homes
Atraveo
Automobile Association NZ
BedandBreakfast.eu
Bedandbreakfastworld
Booking.com
Bookeasy
Booking-Better
Bookit!
Ctrip
Decolar
Despegar
Dorms.com
e-domizil
eDreams ODIGEO
Emerging Markets Travel Group
Expedia
Ezibed
Feratel
Fewo-Direkt XML & iCal
Flipkey
Goibibo
GO VOYAGES
Google Calendar API
Google Hotel Ads
Google for Vacation Rentals
GTA
Holiday Guide
HolidayLettings
Hometogo
Hotels.com
Hostelling International
Hostelworld
Hostelsclub
Hotelbeds
Hotels.com
Housetrip
HRS
iCal export
iCal import (3 calendar)
Jomres
Lastminute.com
Lastminute.com.au
LateStays.com
Marriott Homes & Villas
Opodo
Orbitz
Rate Hawk
Expedia
Stayz XML & iCal
Tablet
Tiket
Tomas
Traumferienwohnungen
TradeMe
Travelbug
travellink
Traveloka
Travia
Trip.com
Tripadvisor Instant Booking
TripConnect Cost per Click
Tripadvisor Holiday Rentals
Trivago
Tui Villas
VacationStays
Visit Scotland
VBRO XML & iCal
Wotif
Zenhotels
Zuji
Wholesalers
GTA
Hotelbeds
Tourico Travel
Metasearch Engines
Google Hotel Ads
Google for Vacation Rentals
Tripadvisor
Trivago
How the Channel Manager works?
A hotel channel manager is a software application that allows hotels to manage and distribute their room inventory and rates across multiple online distribution channels, such as online travel agencies (OTAs), global distribution systems (GDS), metasearch engines, and the hotel's own website.
Here's a general overview of how a hotel channel manager works:


1. Inventory Management: The hotel channel manager acts as a central hub where hotels can update and manage their room availability and inventory. This includes defining the number of available rooms, room types, rates, restrictions, and other relevant details.
2. Integration with Distribution Channels: The channel manager integrates with various online distribution channels and connects to them through APIs (Application Programming Interfaces) or two-way XML connections. Popular channels include OTAs like Booking.com, Expedia, Airbnb, GDS systems like Amadeus, Sabre, and metasearch engines like Google Hotel Ads.
3. Synchronization of Availability and Rates: When the hotel makes changes to its inventory in the channel manager (e.g., updates availability or rates), the channel manager automatically synchronizes this information across all connected channels. This ensures consistency and prevents overbooking or rate discrepancies.
4. Real-Time Updates: Any bookings made on the connected channels are instantly captured by the channel manager. It updates the hotel's inventory in real-time, reducing the available room count accordingly. This prevents the risk of double bookings and ensures accurate availability across all channels.
5. Centralized Control and Reporting: The hotel channel manager provides a centralized dashboard where hotels can monitor and control their distribution channels. It allows them to track bookings, view performance metrics, generate reports, and analyze data to make informed decisions regarding pricing, promotions, and inventory management.
6. Seamless Connectivity: The channel manager facilitates seamless connectivity between the hotel's property management system (PMS) and the various distribution channels. This integration ensures that reservations, guest details, and other important data are automatically synchronized between systems, streamlining operations and reducing manual effort.
7. Channel Performance Optimization: The channel manager enables hotels to optimize their channel performance by providing insights into booking patterns, channel-specific analytics, and demand trends. Hotels can use this information to adjust their strategies, allocate inventory effectively, and maximize revenue.
By leveraging a hotel channel manager, properties can efficiently manage their online distribution, improve visibility, and reach a wider audience of potential guests. It streamlines operations, reduces manual errors, and allows hotels to focus on delivering exceptional guest experiences while maximizing revenue opportunities.
Experience real-time updates by sending immediate notifications. When a guest makes a reservation on your website, we ensure that the availability information is promptly shared with top Online Travel Agencies (OTAs).
Let's imagine you own a charming B&B with 9 boutique hotel rooms. The inventory in our system is configured to reflect this count accurately. This inventory is seamlessly exported to various booking channels, including your website. Both your website and the connected booking channels are now able to offer and sell these 9 rooms. Whenever a booking is received from any of the integrated channels, our system automatically adjusts the inventory to 8 rooms, and this updated information is instantly communicated to all the booking channels as well as your website.
We establish two-way XML connections with industry-leading OTAs such as Airbnb, Booking.com, Expedia, VRBO group, Agoda, Hostelworld, and more. These connections facilitate the exchange of pricing and inventory information while ensuring instant import of bookings.